BEMIDJI — Surrounded by friends and family, 10 firefighters celebrated important milestones on Tuesday evening during the Bemidji Fire Department's first-ever badge-pinning ceremony.
Fire trucks lined the parking lot at the Hampton Inn and Suites for the event as dozens of attendees gathered for a meal and social hour before the ceremony.
Fire Chief Justin Sherwood took the podium to describe the significance of the event, which is a tradition upheld in many law enforcement agencies and fire departments.
"We are here tonight to recognize members of our department who have accomplished something great," Sherwood said. "But, we are also here to honor members of our department who have provided excellent service to this community. It's unimaginable to think that our community could function without our firefighters and their families."
Sherwood also discussed the importance of the department's service to the region, mentioning that Bemidji firefighters are tasked with protecting the safety of 15 townships, three cities and a total of about 48,000 people.
"This evening we are celebrating members who have received promotions, but also those new members that have chosen to dedicate their lives to the fire service and to the Bemidji area," Sherwood said. "Today your family and friends are here to celebrate with you. They have witnessed firsthand the time and effort you have put in to reach this day."
At Tuesday's ceremony, badges were pinned on 10 firefighters who had been recently promoted or completed their one-year probationary period with the department.
Sherwood first announced the fire officers who would be pinned for their recent promotions — Assistant Chief Ben Hein, 12 years of service; Fire Captain Nathan Preuss, seven years of service; and Fire Captain Jim Latzke, 13 years of service.
"Fire officers, you have proven that you are ready to take on a leadership role, a role that is full of challenges but also many rewards," Sherwood said. "You are responsible for not only the safety of your members but for their growth and development within the organization."
Next, seven firefighters who recently completed their one-year probationary period had their badges pinned.
A probationary period is the first stage of every firefighter's career and is a time where new recruits can focus on developing their skills and applying their training to real-world situations.
Graduating from the probationary period implies that a recruit has proven themselves to fire officers, and a badge pinning symbolizes their commitment to the service.
"Recruits, you have proven that you are worthy of the name 'firefighter' and fit to wear the uniform and now a badge of a Bemidji firefighter," Sherwood said, addressing the new recruits. "You have learned that you can perform tasks and act calmly in circumstances that frighten you most."
Firefighters pinned at this portion of the ceremony included Zack White, Tyler Johnson, Tim Kuechenmeister, Matt Ridlon, Joe Krotzer, Shelby Floan and Nick Fratzke.
Hugs were shared, applause filled the room and new recruits shook hands with a row of fire officers.
After the badge-pinning ceremony, Sherwood then announced that there was a "surprise" portion of the evening — an awards presentation for firefighters who had recently helped the community in one way or another while on duty.
Unit citation awards were presented to Chris Loebs and Jake Premo, for assisting in the search of a missing person whose body was found in Battle River in Red Lake.
Between May 9 and May 10, 2022, Loebs and Premo volunteered to extend their shift in an effort to assist the Red Lake Police Department in the recovery efforts of the missing person. With the aid of their skills, training and determination, Sherwood explained, they were able to recover the body.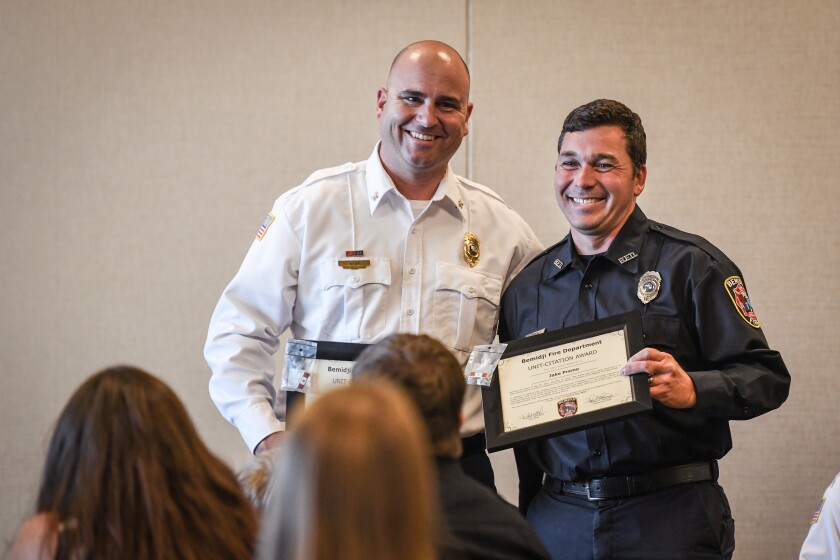 Premo also received a Life-Saving award for his help in an incident that happened on Dec. 24, 2021, when he responded to a report of a vehicle with two people inside
that fell through the ice on Lake Bemidji.
Law enforcement had rescued one person from the water, but the other was still unaccounted for.
Premo quickly put on a cold water immersion suit, located the missing man and recovered him from the lake.
Life-saving efforts were performed causing the man to regain a pulse, but he later died after being transported to the Sanford hospital in Fargo.
Alexis Joyce received a Life-Saving award for her assistance in an incident on May 5, 2022, when her and Mike Mischke responded to the report of a patient with a weak pulse who had possibly overdosed.
Bemidji firefighters and police officers performed CPR as well as other life-saving efforts. The patient was transferred to Bemidji Ambulance Service and ultimately regained a pulse.
Chris Oelrich was presented with a Meritorious Conduct award for rescuing three stranded passengers on a boat in Red Lake on May 30, 2021.
"Without hesitation, Chris volunteered to assist in the effort, and after a short time, Chris found the boat and delivered the boat and its three passengers to safety," Sherwood said. "With no Minnesota DNR or Beltrami County boat to assist, Chris's actions safely delivered three people to shore 90 minutes faster than the deputy's response would have."
Whether they were an award-winner, a veteran officer receiving a promotion or a new recruit celebrating the end of their probationary year, firefighters at the event were surrounded by tables of supportive friends and families.
To recognize this, Sherwood stressed the importance of firefighters fostering relationships with their loved ones throughout their demanding and often challenging careers.
"We can teach you many things — tactics, training, equipment — but one thing we cannot teach you comes from those individuals who support you," Sherwood said. "That is something you have developed in the family and friendship relationships that you have, relationships I hope you continue to have with each other."
window.fbAsyncInit = function() { FB.init({
appId : '880572159243904',
xfbml : true, version : 'v2.9' }); };
(function(d, s, id){ var js, fjs = d.getElementsByTagName(s)[0]; if (d.getElementById(id)) {return;} js = d.createElement(s); js.id = id; js.src = "https://connect.facebook.net/en_US/sdk.js"; fjs.parentNode.insertBefore(js, fjs); }(document, 'script', 'facebook-jssdk'));



Source link
Bemidji Fire Department's first badge-pinning ceremony celebrates new recruits, promotions – Bemidji Pioneer