Westminster College will wrap up its 170th birthday celebration and welcome alumni, friends and family back to campus during the annual Homecoming and Reunion Weekend Oct. 14-15.
This year's Homecoming and Reunion Weekend will feature many timeless Titan traditions, including reunion gatherings, class photos, the annual alumni awards ceremony, tailgate celebrations, the Homecoming Hot Spot and the crowning of the Homecoming King and Queen. There will be plenty of opportunities for alumni to reconnect with old friends, interact with current students and tour new and old spaces on Westminster's campus.
"The homecoming season is truly the best and most celebratory time of the year to visit campus," said Kara Montgomery, senior director of alumni engagement. "The energy from current students, returning alumni and faculty and staff is outstanding. Beyond the fun, is the importance of maintaining a relationship with Mother Fair and your former classmates. A strong alumni community helps enhance the experiences of our current students and build on the ongoing relationship our alumni have with the institution. In turn, the College thrives from a body of people who care about its well-being now and into the future."
Some of the highlights for Homecoming and Reunion Weekend include:
Alumni Awards Reception and Dinner. The annual event honors alumni who have achieved accomplishments in their fields or made meaningful contributions to their community or Westminster. This year Alumni citation Awards will be presented to Dr. Adel Abdul-Malek '62 of Sarasota, Fla., Darnelle Clark '09 of Warren, Ohio, and Dr. David Dado '09 of New Smyrna Beach, Fla. Alina Clough '18 of Washington, D.C., will receive the College's Outstanding Young Alumni Award. Baylee Horvath '23 of Murrsyville, Pa., a current senior majoring in business administration, marketing and professional sales, and sports management, will be presented with the Rising Titan Award. The event will be held at 6 p.m. Friday, Oct. 14, in the Witherspoon Room of McKelvey Campus Center. For more about our award winners, click here.
Top of the Morning with the Titan. Grab a danish and coffee with your favorite Titan mascot compliments of the Alumni Association. Alumni can look through the Alumni Award Winner display and sign their names to one of the chalkboards—a Titan tradition. Open from 9 to 11 a.m. Saturday, Oct. 15, in the TUB area of McKelvey Campus Center.
Homecoming Worship Service. All alumni are welcome to join in the worship service led by members of the Class of 1972 at 9:30 a.m. Saturday, Oct. 15, at Wallace Memorial Chapel.
Alumni Art Exhibition and Reception. View alumni art submissions and enjoy light snacks at 11 a.m. Saturday, Oct. 15, in the Foster Art Gallery in Patterson Hall. The artwork also will be on display from 9 a.m. to 5 p.m. Friday and Saturday.
Class photos. Alumni celebrating a milestone reunion year are invited to gather for a class photo shoot in the lobby of the Will W. Orr Auditorium on Saturday, Oct. 15. This year's schedule includes:
10:30 a.m.: 25th reunion (Class of 1997)
10:45 a.m.: 35th cluster reunion (Classes of 1986-1988)
11 a.m.: 50th reunion (Class of 1972)
11:15 a.m.: 55th reunion (Class of 1967)
11:30 a.m.: 60th reunion (Class of 1962)
11:45 a.m.: 65th reunion (Class of 1957)
Noon: 15th cluster reunion (Classes of 2006-2008)
Homecoming Hot Spot. The Hot Spot is the happening place before the football game on Saturday, Oct. 15. Scheduled from 11 a.m. to 1 p.m. along McClure Run adjacent to Hoyt Science Center, the Hot Spot will feature food trucks, music, a sit-down luncheon, Alumni Association information table, various interest tents, WC Bee Company honey sampling and sales, balloonist and face painting, bouncy house, Pittsburgh Popcorn, photo booth and more.
Titan Homecoming Game. The Westminster football game against the Thiel College Tomcats kicks off at 1 p.m. on Saturday, Oct. 15, in Burry Stadium. Various campus organizations will host tailgate celebrations and TG2, the mobile campus store, will be open. The Westminster Homecoming King and Queen will be announced at halftime.
All Alumni Reunion Gathering. This new Homecoming event is open to all alumni—particularly those who aren't celebrating a milestone reunion—who want to keep the festivities going after the Titan football game. Reminisce with friends and classmates at 5:30 p.m. Saturday, Oct. 15, at Four, 2409 Wilmington Road, New Castle.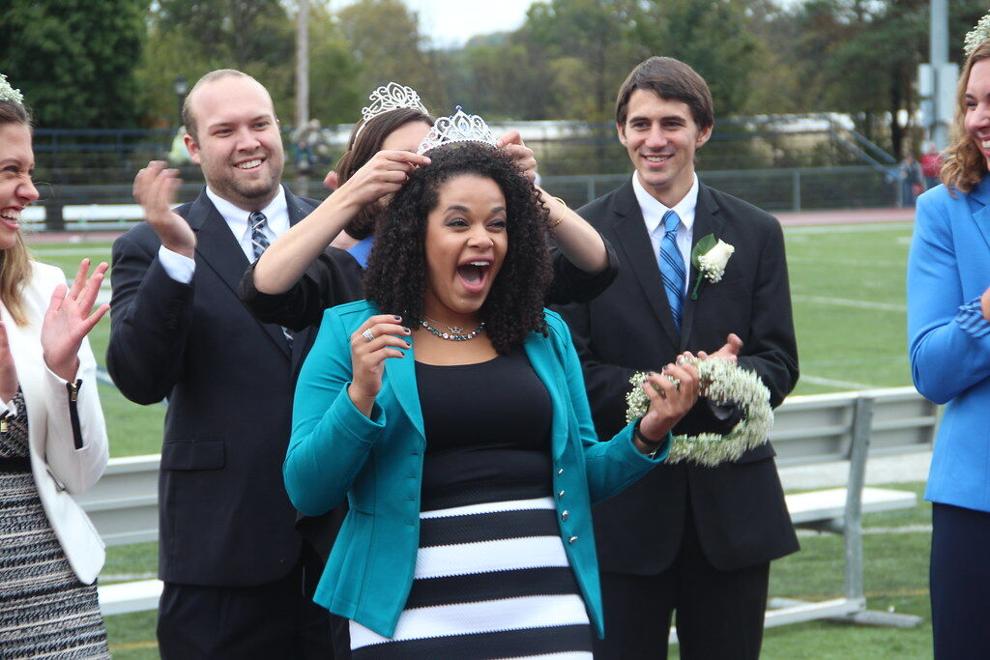 Alumni Jazz Ensemble Concert. Alumni musicians are invited to show off their talents by participating in the Alumni Jazz Ensemble Concert. Rehearsal will follow the football game from 4:30 to 6 p.m. FThe concert will be held at 7:30 p.m. Saturday, Oct. 15, in Beriln Lounge of the McKelvey Campus Center.
Several post-game activities, as well as various reunion receptions and dinners, will cap the weekend celebration. Many of the weekend's events require reservations. Visit westminster.edu/homecoming for a complete schedule of events and to register for activities.
For more information, please contact Linda Wilson in the Office of Alumni Engagement at 724-946-7364 or lwilson@westminster.edu.
Homecoming festivities set for Oct. 14 & 15 |